Explore the Mindful Practice of Wax Carving
Workshops that inspire and empower individuals to create handmade jewelry through the ancient practice of wax carving. Nubiti aspires to share our deep admiration for the ritual of creating adornments that transcend time and trends. 
Join us on this transformative journey toward self-discovery and the creation of meaningful works of art.
Initials Workshop

Jan 14th, 2024

Downtown Los Angeles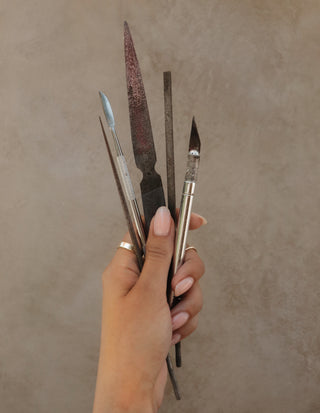 Wax Carving
An ancient technique that dates back thousands of years, wax carving has found its way across countries and cultures as a cherished method of making jewelry.
In our workshops, we build a wax form using an alcohol lamp, dripper, and various tools for sculpting and refining your wax model.
Meet the Instructors
With a combined 25+ years of jewelry experience, Annalisa and Marie are here to guide you through the wax carving method.